Nejat Society Interviewed Mr. Mansour Asari
Nejat Association had talked with Mr. Mansour Asari who recently defected from MKO and joined his family in Iran, at Nejat NGO's Tehran office: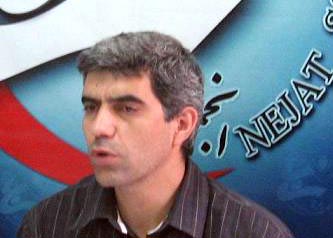 I'm Mansour Assari, the son of Mojtaba. I was born in Khansar, in 1972. In July, 2000, I was recruited by MKO in Turkey where I had gone to reach Europe. Then they sent me to Camp Ashraf.
In 2004, after the organization was disarmed, I found an opportunity to leave MEK and join TIPF.
Immediately after I stepped in Ashraf, I figured out that I have nothing in common with MKO's ideology and functions. Every thing was contradictory to what I saw on MKO's satellite TV but I was afraid of expressing my idea because they would cause too much pressure on me in their so called current operations (self-criticizing meetings).
I was told, in Turkey, hat the exit of the organization is always open but in camp Ashraf, Masud Rajavi  and Nasrin ( Mahvash Sepehri) told clearly that any one who is willing to leave the organization,has to confess ,in front of the cameras,that he or she is the agent of Iranian Intelligence Ministry and then write and sign what she/ he has said. There fore, I kept quiet waiting for a chance to leave.
In TIPF, no country would  like to receive us since the MKO is on the terror list. In January 2008,I left TIPF, without any money and return to Ashraf since the group had announced that any one who wants to go to Europe ,they would give him money. We were 5 people who returned to Ashraf. There, Zhila Deihim,Reza Moradi,Mohammad Ali Salehi and Hamid Araste and Yousef Anbaz encountered  us. We stayed with them for 21 days. Mohammad Ali Salehi  talked to me to convince me to stay there, he took me to the entrance part. Ne'mat Oulaiee and Adel ( Mohammad Sadat Darbandi) tried to keep me but finally I said to Batul Rajaiee:" I am insistent to leave " they paid 1800 $,took my signature and receipt. I left Ashraf for Turkey where the defectors of the organization helped me be settled in Istanbul.
I called my family and explained everything. A few days after the Iranian's New Year, my parents came to Istanbul to visit me. They were always crying during our visit but I had no feeling. I couldn't recognize them at first, because they had became too old. After a while , I felt my feelings starting to revive and began to cry. Up to that time, I had decided not to return to Iran since I thought it was treason to the organization. But the logic was replacing my fanatic cult-like thoughts. I felt that I loved my family and country. When I was assured that I would have no trouble in Iran,I decided to return with my family, to Iran. They were ready to help me go to Europe but I wanted to go nowhere except Iran. I arrived in Iran this March without any problem. I plan to work here, building my new life.
In my opinions, all those who are in MKO, are captives and deserved to be released . I was imprisoned in Ashraf psychologically and physically. In fact the fear of the peer pressure and mental bars, had kept me in Camp Ashraf. Most of the members of Ashraf have no way out. It is even difficult to leave Ashraf and Join the TIPF. When you are kept in a place like Ashraf, you feel the world is limited to that only place. They try to inspire the members the illusion of being the superior people of the world.
As a matter of fact, I had an extraordinary experience. I had totally forgotten all my family, emotions and love. Visiting my family helped me a lot ,find my normal life style reviving my human emotions. Now, I realize why MKO is terrified by family contacts, why the cults see the families as their enemies.  The reality is that MKO paid the money to Mr. Assari and some other defectors to leave Iraq. But the question is that why MKO didn't do such a  thing in all those previous years and didn't try to help the other separated members who had lost a big part of their life. At the first view one may think that MKO doesn't want them to return to Iran . But this reason is not accceptbale since they could help the defectors in the past too but they didn't . The reason of such a change in MKO's behavior cant be anything but the trip Mr. Khodabande took in Iraq and the meetings he had with Iraqi authorities discussing the MKO affairs in Iraq and the result was the foundation  of SFF (Sahar Family Foundation ) . this action will absolutely be a changing point in MKO's activities in Iraq. At the present time the most terrifying problem for MKO is the members' joining to SFF since the testimonies made by these people will from an important part of MKO' criminal case in Iraqi courts.