He added that the Iraqi government would deal with the members of the organization in a legal way, saying the MKO members should either return to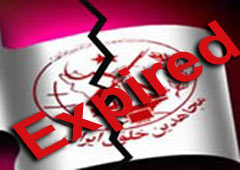 Iran or select a third country.
The Mujahedin Khalq Organization, which identifies itself as a Marxist-Islamist guerilla army, was founded in Iran in the 1960s but was exiled twenty years later for carrying out numerous acts of terrorism within the country.
The terrorist group is especially notorious for the help it extended to former dictator Saddam Hussein during the war Iraq imposed on Iran (1980-1988).
The group has a 40-year history of involvement in terrorist activities and has masterminded assassinations and bombings inside Iran.
The MKO had regularly provided military training for its members on a base north of Baghdad, known as Camp Ashraf.
Earlier in January, Iraqi Prime Minister Nouri al-Maliki said that Baghdad was determined to close Camp Ashraf and expel the MKO members for the sake of Baghdad-Tehran relations.
"Iraq is determined to put an end to this Organization because it is effecting relations between Iran and Iraq. This organization participated in many operations that harmed Iranian and Iraqi civilians,"he said."Remaining in Iraq is not an option for them,"al-Maliki added.
Baghdad announced in a statement on December 22 that MKO members at Camp Ashraf must close their training ground and leave the country within a six-month period.
After the finalization of a new agreement between Baghdad and Washington, the Iraqi government took over the country's national security issues. Under the interim agreement, Camp Ashraf, the MKO headquarters and training site, was put under Iraqi control as of January 1, 2009.
At his Friday press conference, al-Rubaie in response to a question asking the reason for the delay in the camp's shut down, said that before the interim security pact between Baghdad and Washington, Camp Ashraf had been under US control.
Meanwhile Jalili expressed Iran's readiness to cooperate with Iraq on security matters through the aim of training and setting up security offices.