According to Habilian Association quoting from Buratha news, Well-informed sources told that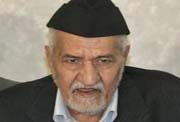 Adnan al-Dulaimi who is a notorious terrorist and leader of Iraqi Accord Front (leading Sunni fraction in Iraqi parliament), had fled out of Iraq after becoming disappointed in possibility of being ignored from detention after the lifting of his immunity.
Sources close to his daughter Asma al-Dulaimi who is also a member of parliament told her that her father had pulled many strings in order to escape from being imprisoned after his immunity had been lifted; but his struggle were doomed to fail and he was left behind the closed doors, so he decided to run away from Iraq.
Dulaimi was also told by Ayad al-Samaraei, the Iraqi parliament speaker who is also a member of Iraqi Accord Front that he would not impede the application of legal proceedings after the lifting of Dulaimi's immunity and nobody could support him.
The sources said that Dulaimi had fled to Jordan to settle in another country after two of his children who had been charged with felony and alliance with terrorists, were pushed to prison.
Shiites killings, sectarian displacement and abduction of American journalist Jill Carroll and killing of her translator in addition to attacking the Iraqi security forces are among the many crimes al-Dulaimi is accused of.

Dulaimi is one of the most prominent defenders of the MKO terrorist cult and has defended it several times in his press and media.
In 2007 the People's Mojahedin Organization arranged a meeting between Adnan al-Dulaimi, and a number of members of the Accord Front with the Israeli officials in Brussels.