Al Rubaie: MKO members will be expelled
al Rubaie: Baath, al Qaeda want to show Iran as enemy
Former Iraqi National Security Advisor Muwaffaq al Rubaie said the former Iraqi Baath ruling party and al Qaeda want to show Iran as enemy to find justification for their activities.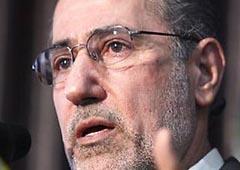 Al Qaeda and Baath party have always sought to make Iraq unstable and draw attention away from the fact that they are responsible for terrorist activities and killings in Iraq, he told ISNA.
"Baath party and al Qaeda are trying to show Iran as enemy of Iraq, in line with policies of Baath party, to have a justification regarding their measures in Iraq, Iran and Kuwait."
Also regarding the issue of Mujahedin-e Khalq Organization (MKO) terrorist group, he said Iraq still insists that members of the group should not stay in Iraqi territory and they need to be expelled based on determined standards.
Iraq wants the members of the group to be either returned to a third country without use of force or to Iran, he added.
Elsewhere, regarding Iraq-Iran borders, he said the borders are secure.