A senior Iraqi official disclosed that several Baath party leaders who have recently returned from Syria have had tight cooperation with the terrorist Mojahedin-e Khalq Organization (MKO also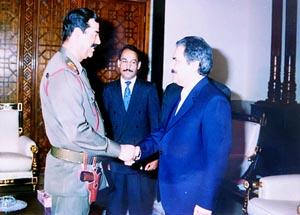 known as the MEK, PMOI and NCR).
"There is strenuous cooperation between the MKO members and certain ringleaders of the dissolved Baath party who have just returned from Syria," Governor of al-Khalis city in Diyali province Odai al-Khadran told the al-Istiqamah newspaper on Saturday.
He said that the Baath party ringleaders and the MKO members have held some meetings in the villages and outskirts of the al-Khalis city as well as al-Azim region in Diyali province.
Also, a Saudi colonel who has recently been apprehended by the Syrian security forces also disclosed that the MKO has played a major role in the recent conflicts in Syria.
According to the colonel, a number of 20,000 terrorists, among them a number of MKO members, were due to attack Damascus from four directions and occupy the city after the explosion inside the Syrian national security headquarters in the capital on June 18.
Also, the MKO terrorist group announced in July that it had hosted a number of Syrian dissidents at the headquarters of its ringleader Massoud Rajavi in France.
Terrorists and rebels widely supported by the US, Saudi Arabia, Qatar and Turkey have disregarded the cease-fire that stood on top of the peace plan proposed by the UN-Arab League envoy to Syria, Kofi Annan.
Syria has been experiencing unrest since March 2011 with organized attacks by well-armed gangs against Syrian police forces and border guards being reported across the country.
Hundreds of people, including members of the security forces, have been killed, when some protest rallies turned into armed clashes.
The government blames outlaws, saboteurs, and armed terrorist groups for the deaths, stressing that the unrest is being orchestrated from abroad.
In October 2011, calm was eventually restored in the Arab state after President Assad started a reform initiative in the country, but Israel, the US and its Arab allies are seeking hard to bring the country into chaos through any possible means. Tel Aviv, Washington and some Arab capitals have been staging various plots in the hope of increasing unrests in Syria.
2012-08-11
http://english.farsnews.com/newstext.php?nn=9104253769