With the relocation of about 400 residents of Camp New Iraq, formerly Camp Ashraf, to a new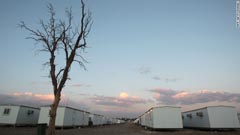 TTL, A Temporary or Permanent Location
is not a permanent place of host and stay as some may presume
transit center, Temporary Transit Location TTL, near the Baghdad's airport, the United Nations has welcomed the move calling it "the first step towards a better future" for the transferred residents. But it seems that the relocation does not follow smoothly on the agreed path. For humanitarian reasons and to end the presence of MKO's members in Iraq in a peaceful way, the Iraqi government agreed to extend the decided deadline 0f their expulsion, in line with the memorandum of understanding signed in December by the UN and the Iraqi Government. Although the relocation of the residents to TTL imposes heavy costs on the Iraqi government, but it demonstrates Iraq's good will to resolve the situation facing the residents of Camp New Iraq.
As the name of the new location denotes, Temporary Transit Location TTL, it is a temporary facility to facilitate the process of residents' departure to third countries. The UN High Commissioner for Refugees UNHCR has announced that it will immediately start the process of verification and refugee status determinations, a key step in preparing the submissions of eligible candidates for resettlement in third countries.
Then, TTL is a center for:
– Temporary settlement of the relocated residents,
– To recognize the residents' individual identity,
– To determine and verify the residents' former refugee status in other countries
– To determine the residents' future of returning to Iran or applying asylum in a third country,
– Preparing legal process of applying for asylum seekers,
As stated in MoU signed by Special Representative of the Secretary-General and head of the UN Assistance Mission for Iraq (UNAMI) Martin Kobler and National Security Advisor to the Prime Minister of Iraq, Faleh Fayad, the Iraqi government will facilitate relocation of the residents of Camp New Iraq to TTL where the UN High Commissioner for Refugees (UNHCR) will start a process of refugee status determination of residents individually and regardless of their organizational rank as a necessary step for their resettlement in a third country.
In fact, TTL is not a permanent place of host and stay as some may presume. For sure, the residents' cooperation with the Iraqi authorities and representatives of UNHCR to complete the relocation and process of refugee status without delay guarantees the human rights, safety and welfare of all residents. Of course, any disapproval and protestation by MKO that might end in prolongation of stay in TTL not only satirizes the meaning of the phrase itself but is also a different aspect of a method of sophistry utilized by the group; to turn TTL into another permanent camp.
By M. Nelson