S&D Group condemns 'Friends of a free Iran event' in Camp Liberty (Iraq)
MEPs support Martin Kobler's work in camp Liberty to save victims of Mojahedin Khalq leaders
The S&D Group is strongly opposed to this event in Camp Liberty, Iraq, which has been organised by the Friends of a Free Iran (FoFI) in the European Parliament.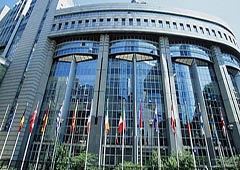 Maria Muñiz de Urquiza, the S&D shadow rapporteur on Iran, said:
"Both the choice of speakers and unsubstantiated allegations that the UN Iraq Mission violated its mandate and endangered the lives of the residents of the Camp suggest that the organisers of this event do not seek a genuine solution to this humanitarian issue.
"Rather, their efforts are directed at undermining the work of the UN Secretary General's Special Representative, Martin Kobler, and the progress made in resettling the Camp's residents."
The S&D Group fully supports the efforts of Martin Kobler and the UN Assistance Mission to Iraq towards full and permanent resettlement of the residents of Camp Liberty and believes that the decision by the Government of Albania to accept 210 residents is a welcome first step. The urgency of the resettlement was made clear by the attack the Camp on 9 February, which the S&D Group condemns. We also note the responsibility of the Government of Iraq to guarantee the safety and security of the residents of the Camp, in accordance with international law.
The S&D Group strongly believes that legitimate concerns about the safety of the residents of Camp Liberty should under no circumstances lead to the legitimisation of the People's Mojahedin Organisation (PMOI) as the self- declared "principal Iranian opposition movement". The PMOI has a long track record of collaboration with Saddam Hussein's dictatorship in Iraq, both during his war against Iranian people and repressive popular uprisings of Iraqi Kurds and Shiites.
Ana Gomes, the S&D coordinator on foreign affairs and the rapporteur on Iraq in previous EP mandate, commented:
"All Iraqis I have spoken to during my visits to the country link the PMOI to Saddam Hussein's most murderous campaigns against the Iraqi people. The organisation has no credibility and legitimacy whatsoever within Iran. Support for the PMOI only plays into the hands of Iran's authoritarian regime and undermines the genuinely democratic forces in the country".
Group of the Progressive Alliance of Socialists & Democrats in the European Parliament (S&D),
socialistsanddemocrats.eu