Rajavi has difficulty to please the US, When will the US put the MKO aside?
While the Mujahedin Khalq Organization's propaganda arm spends large amounts of money to buy the support of American high-profiles, US government is not willing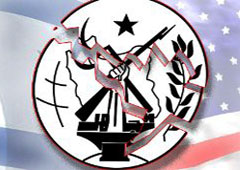 to make strategically friendly relationship with the group.
In September 2012, the US State Department removed the Mujahedin Khalq Organization from its list of Foreign Terrorist Organizations but American prudent approach to the MKO as a cult-like group that maintains the capacity to commit terrorist acts was clear in the statement the department published to announce the delisting. "With today's actions, the department does not overlook or forget the MEK's past acts of terrorism, including its involvement in the killing of US soil in 1992", the statement reads. "The Department also has serious concerns about the MEK as an organization, particularly with regard to allegations of abuse committed against its own members."
The US history is full of examples of temporary tactical alliances with terrorist groups such as Taliban, Al-Qaida…. Based on such historical facts, the American prominent scientist and political critic, Noam Chomsky concludes, "The United States is a leading Terrorist State." However, none of the above mentioned alliances last forever. They get expired in accordance with the American interests. In the process of the MKO's relocation from Camp Ashraf to Camp Liberty, the US administration aided the UN Special representative in Iraq and after the relocation to Liberty and the consequent transfer of a number of Liberty residents to Albania, appreciated the efforts of Martin Kobler on different occasions. On the other hand, the MKO's American advocates including Rep. Tom Ridge, Attorney General Michael Mukasey, Rep. Howard Dean and Democratic Rep. Judy Chu and many other paid advocates of the group call on returning the residents of Camp Liberty to Camp Ashraf.
Although after the delisting, the MKO was allowed to open its office in Washington DC, its position in the US territory is very fragile. What if the US-Iran relations come in to a peaceful conclusion? Will the US stay a safe haven for the MKO? The United States is mchoosier than the MKO leaders to make friends among former enemies of its nation. The MKO's anti-imperialist long-time strategy is always considered as a dark point by the US.
This is what the MKO fears the most: A normal US – Iran relation which is more likely after the election of an Iranian moderate president. To stop such a "night mare" taking place, the MKO's propaganda beats harder on war drums trying to portray Dr. Hassan Rouhani as what they call "theocrat".
Actually, the options are left to the US to whether use or abuse the MKO. The MKO can never be a long-time ally for the US.
By Mazda Parsi