Germany's Green Party has rejected an attempt by Maryam Rajavi to re-brand the MKO terrorist group as a credible and legitimate partner.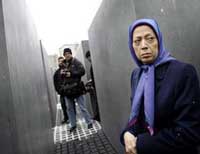 Maryam Rajavi, the leader of the outlawed Mujahedin Khalq Organization (MKO), or People's Mujahedin Organization, recently met with members of the German Parliament in a bid to rally support for the removal of the group from the European Union's list of terrorist organizations.
"The Iranian exile organization of the People's Mojahedin Organization which acts under the cover of the National Council of Resistance of Iran is not a suitable partner in dialogue for a responsible policy towards Iran,"a spokesperson for the Green Party, Claudia Roth said late Thursday.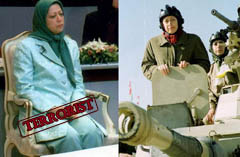 Maryam Rajavi directly ordered the massacre of Kurdish people
Roth told reporters that
the group's position on the EU terror list should be carefully evaluated, as the Rajavi organization has a 'past of terror' and assisted the 'crimes' of the deposed dictator, Saddam Hussein, in Iraq.
The Green Party, which holds 51 out of 614 seats in the Bundestag, said it clearly dissociates itself from considering the Mujahedin Khalq Organization as a legitimate 'democratic Iranian opposition'.
The MKO which has been listed as a terrorist organization in Iran, the European Union and the United States, has a long and bloody history of targeting Iranian civilians and government officials.
Incidents linked to the group include the June 1981 bombing of the offices of
the Islamic Republic Party in which 72 high-ranking Iranian officials including judiciary chief, Ayatollah Mohmmad Beheshti, and tens of Majlis deputies were killed.
The following August the group assassinated President Mohmmad Ali Rajae'i, Prime Minister Javad Bahonar and National Police Chief Ali Dastgerdi at the Prime Ministry building.
The MKO also assisted Iraqi dictator, Saddam Hussein, in the massacre of thousands of innocent Iraqis and is responsible for several acts of terror in Iran including the 1994 bombing of a revered Shia shrine in Mashhad, eastern Iran.
In 2003, French anti-terrorist police arrested 165 members in Paris, including Maryam Rajavi, for 'associating with wrongdoers in relation with a terrorist undertaking.'
More recently, around 10 members of the notorious organization were arrested in France and Switzerland on charges of money laundering on September 29, 2008.