Dear Mr. Ambassador,

We are a number of relatives of the captives held by the Mujahedin Khalq Organization (the MKO) and also a number of former members of the organization who succeeded to leave it after 20 to 25 years of mental and physical imprisonment.
We live in Iran now.
We appreciate the recent act of Swedish parliament members who condemned the suppression of Iraqi Kurds by the MKO during the 1991.
Dear Mr. Ambassador,
As former members of the group, we all eye-witnessed the massacre of Kurdish people under the order of Maryam and Massoud Rajavi. We remember the voice of Maryam Rajavi via military radio, who called on all units:"Take the Kurds under the tanks. Save your bullets for Pasdaran"!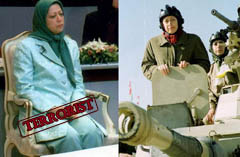 Yes, the Kurds who had revolted against Saddam Hussein's regime were suppressed by his mercenary, the MKO, in Kurdish regions including Kefri, Tuzkhormatou, Qareh Tapeh.
Once we defected the MKO, we were determined to denounce all crimes of the group which is actually in the inside a dangerous destructive cult. Nejat Society founders work to release their family members or ex-comrades who are still taken as hostages by the cult of Rajavi.
Thus, we ask your honorable government to give us the opportunity to attend your parliament in order to reveal horrible crimes we eye observed in the operation against Kurds, in 1991, although we know that agents of the MKO are awfully active in your country.
You may want to get learned about documents and evidences on the group operatives, recruiters and fundraisers who are secretly supported by the MKO leadership in order to run the group's propaganda as well as attacking former member in your territory.
We are looking forward for your positive response. Your prompt cooperation with Nejat Society can definitely help your honorable government with the security of Swedish citizens as well as European citizens.
Thanks in advance.
Sincerely,
Nejat Society