Former MEK members offer witness over Kurdish massacres
Mr. Per Westerberg the honorable speaker of Riksdagen or Sveriges riksdag) , the national legislative assembly and the supreme decision-making body in the Kingdom of Sweden and the distinguished members of Riksdag
We are a group of the former members of people's mujahedin organization of Iran (MEK, MKO,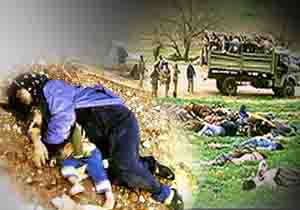 Rajavi's cult) who have succeeded to rescue ourselves from the physical and mind barriers of pmoi after 20-25 years of membership in this notorious organization.
We are currently living in different European countries such as France, Netherlands, Germany and …….).
We got informed that the members of Riksdag (the national legislative assembly and the supreme decision-making body in the Kingdom of Sweden) in a humanitarian move have condemned the massacre of Kurds by MEK.
Mr. Per Westerberg and the honorable and distinguished members of Riksdag,
We had all witnessed the crime perpetrated by pmoi in Iraq in 1991. we had witnessed the suppression and massacre of Kurds in Iraq which happened by the direct order of the leaders of MEK, Massoud and Maryam Rajavi . Mrs. Maryam Ghajar Azdanlo ( Maryam Rajavi) had ordered directly through the military transmitters to the MEK military units quote **squash the Kurds under your tanks and armored vehicles and save your ammunitions and bullets for the border and Iranian soil for killing the Iranian soldiers **. This brutal and inhumane order was broadcast by Maryam Rajavi own voice through the military transmitters and after that the Kurds who began uprising against the Saddam Hussein's government were crushed out and suppressed brutally by MEK army, NLA( National Liberation Army) in favor of the Iraqi dictator , Saddam Hussein in Iraq's Kurdish areas such as Kafri, Touz Khormato, Ghareh Tapeh, Ghasreh Shirin and …………..etc.
Mr. Per Westerberg and the honorable and distinguished members of Riksdag,
We, after the separation from this terrorist organization (MEK, mko, Rajavi's cult) with sectarian and cultic internal affaires led and run by Massoud and Maryam Rajavi , have decided to reveal and disclose all the crimes perpetrated by this notorious and dangerous organization to stop this organization from further crime and killing .
We are urging you to give us the opportunity and permission to reveal and divulge the crimes perpetrated by MEK in face to face meeting with you and the honorable members of Riksdag in your assembly and inform you more about those crimes in details .
We know that some of the MEK terrorist members are active in your country and there are many documents and evidence which show that the MEK have been supporting them covertly and use them to attack its dissidents and opponents in France and other European countries.
We are eagerly waiting for your positive response to our request and we assure you that our face to face meeting will help you a lot to know more about this terrorist organization and also it will be a reliable source for the security of your country and Europe.
Respectfully
The former members of MEK
Faryade Azadi,