"The Al Khalifa regime is trying to support the terrorist MKO to suppress public protests in Bahrain and use the group in line with its objectives," Mohammad-Saleh Jokar, a member of Majlis National Security and Foreign Policy Committee, said on Saturday.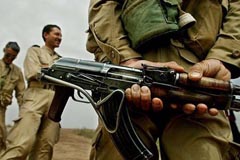 The Bahraini uprising against the Al Khalifa rule in the Persian Gulf island nation began in February 2011. The regime promptly launched a brutal crackdown on peaceful protests and called in Saudi-led Arab forces from neighboring states.
Jokar, however, said that neither the MKO, nor any other force can confront Bahraini people's rightful protests.
An informed source at the UN office in Baghdad, Iraq, said earlier that Bahraini Foreign Minister Sheikh Khaled bin Ahmad Al Khalifa had handed a message from King Hamad bin Issa Al Khalifa to US Ambassador to Manama Thomas Krajeski, announcing Bahrain's willingness to host the group.
The MKO is responsible for numerous acts of terror and violence against Iranian civilians and officials.
The group fled to Iraq in 1986, where it received the support of Iraq's executed dictator Saddam Hussein and set up its headquarters, Camp Ashraf, near the Iranian border.
Following the US-led invasion of Iraq in 2003, the members of the group, in several stages, were relocated to Camp Liberty near the Baghdad airport, which was a former US military site.
The group is also known to have cooperated with Saddam in suppressing the 1991 uprisings in southern Iraq and carrying out the massacre of Iraqi Kurds.