Press Statement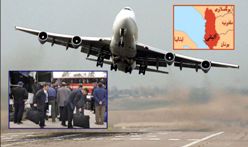 Jen Psaki
Spokesperson, Office of the Spokesperson
Washington, DC
June 3, 2013
————————————-
On May 31, thirty residents of Camp Hurriya departed Iraq for permanent relocation in Albania. The United States commends the Government of Albania's generous offer to accept up to 210 former Camp Hurriya residents. This marks the second in a series of planned moves to relocate Camp Hurriya residents to Albania. Albania continues to be a strong partner of the United States in contributing to peace and stability in Iraq.
The United States also reiterates its call to the Mujahedin-e Khalq (MEK) to cooperate fully with the United Nations High Commission for Refugees (UNHCR) process to relocate Camp Hurriya residents outside of Iraq as expeditiously as possible. The permanent relocation of residents is essential to ensure the safety and security of residents, especially following the February 9 terrorist attack that took eight lives.
The MEK leadership has the responsibility to facilitate the full and immediate participation of residents in interview and counseling processes required by the UNHCR. Residents of Camp Hurriya are entitled to unimpeded and private access to UN human rights monitors. The MEK leadership has an obligation to ensure residents are able to engage openly and freely with UN human rights monitors, UNHCR personnel and UNAMI representatives.
The United States reaffirms its strong support for the work of UNHCR, the United Nations Assistance Mission for Iraq (UNAMI), and especially the tireless work of UNAMI Special Representative of the Secretary General Martin Kobler, to assist and resettle Camp Hurriya residents.
The safety and security of Camp Hurriya residents remain an utmost concern. Security requirements to protect residents must be fulfilled in accordance with the December 25, 2011 Memorandum of Understanding between the United Nations and the Government of Iraq.