The calls made by families of members of the Mujahedin Khalq Organization (the MKO) who reside in Camp Liberty, are ignored by the authorities of the UNAMI (United Nations assistance Mission for Iraq).
Following , the sit-in of groups of families in front of Camp Liberty, UN officials in charge of the Camp did not take any action to aid them contact their loved ones who are taken as hostages by the MKO leaders.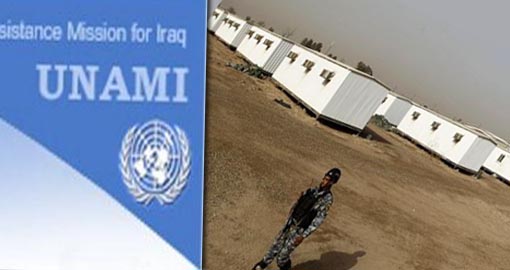 Actually, negligence and reluctance of the UN authorities for such a humanitarian case seem strange .So, Members of Nejat Society investigated the behavior of the UN officials by contacting some of the recently defected members of the group who are seeking refuge in third countries. They found out very frustrating facts about the UNAMI's approach towards Liberty residents.
They told Nejat Society that the UN officials used to patrol in Camp Liberty from time to time and if they were faced with a resident who wanted to speak about his problems, they would tell him "Go and come with your superior commandant"!
In the MKO, as a cult-like group, members have no personal space. They are deprived from having the least freedom to have a private meeting with UN officials. And, the UN officials do assist the MKO Cult leader to maintain his control over members.
According to the defectors, UN officials work together with Massoud Rajavi to violate the most basic rights of residents of Liberty.
Based on recent news of Camp Liberty, the UN officials left their offices while the families' sit-in in front of the camp. They give the air to the calls of grieving families.
Nejat Society condemns the illegal treatment by UN officials against residents of Camp Liberty. It calls on the UN General Secretary to end these acts of discrimination against Liberty residents and their families.