Former members meet deputy Ambassador of Poland: Mojahedin Khalq are targeting Polish students
A delegation of ex- Mujahedin-e Khalq members met Poland deputy ambassador at the country's embassy in Paris, Peyvand-e Rahayee Website reported.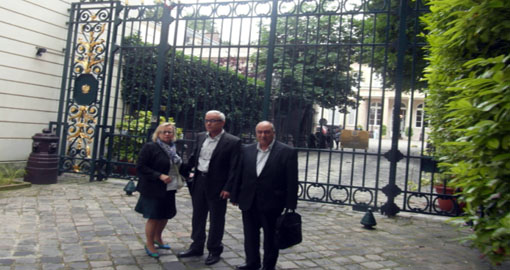 The delegation included Mr. Mohammad Karami, Mr. Karami's spouse [she is polish], Mr. Ghorbanali Hosseinnejad. Mr. Karami and Mr. Hosseinnejad were both of veteran, high-ranking members of the MKO Cult.
The meeting lasted for more than three hours. The delegation exposed the Rajavi's Cult illegal and clandestine activities in Poland including the group's efforts in deceiving the public opinion esp. the youth into participating its June 9th gathering in Paris- which is to honor the group's start of armed struggle against the current Iranian government. The ex-members also exposed the terrorist, inhumane nature of the MKO Cult presenting more than 90 pages of documentations on the group's crimes and terrorist activities.
The deputy ambassador to Poland welcomed the delegation and eagerly considered the topics.