Condemn and Boycott the anniversary of violence and terrorism
Open letter from the Iranian Pen Club to foreign citizens who intend to participate in the Rajavi cult's gathering in Paris
Greetings and with respect to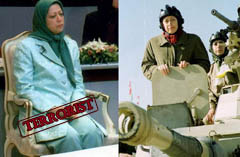 you all.
The Iran-Ghalam (Pen) Club consists of former members with more than twenty years record of service in the People's Mojahedin Organization. We are informed that Maryam Rajavi will hold a ceremony to commemorate violence and terrorism in Villepinte, Paris this year like previous years, and she has invited you to attend this notorious ceremony as well. Regarding this invitation, the Iran-Ghalam Club decided to write this letter to remind you of the following facts about this cult organization.
Dear friends,
According to international news agencies, in 2003 when Maryam Rajavi and some of pmoi operatives got arrested in France , 11 million dollars was found in their headquarter in Auvers sur Oise . The PMOI leadership forced some of their followers and members in France and in Europe in front of the French Embassy and in USA to set themselves on fire to show their anger about the arrest of Maryam Rajavi . the leadership of pmoi wanted to create panic and fear among the French people to force The French government to release Maryam Rajavi as soon as possible . unfortunately two People – Sadighe Mojaveri and Neda Hosseini – lost their lives by sels-immolation carried out under pressure Maryam Rajavi praised this violent cutic Action and called the victims "sacred martyrs"
In june 1981 , Mojahedin Khalq announced the resumption of "Armed Struggle" and " Terrorism" which led to thousands of deaths and a surge in violence and destruction.
Mojahedin Khalgh now celbrates the anniversary of These two Events every year. The celebration of their commitment to violence, terrorism and cultic beliefs.
Are you aware that the People's Mojahedin Organization has changed from a political and revolutionary organization to a cult led by Massoud and Maryam Rajavi? And do you know that as a result of all its cultic and terrorist activities, it has a black record of treason and crimes against the Iranian people?
Do you know that this organization, despite its claim that it is a democratic organization and is an advocate for human rights and is fighting against fundamentalism, but inside its medieval relations there is a severe breach of human rights and censorship and inquisition and political strangulation and severe suppression in this so-called organization?
Do you know that the leader of this cult does not tolerate hearing the smallest criticism and that he issued an audio-tape on 11 Aban 1393 against all his opponents and critics, in particular the separated members of this notorious cult, and that in this audio-tape he threatened all his opponents, critics and separated members with death?
Do you know that the People's Mojahedin Organization, despite its claim of supporting the women's movement and its claim to support the slogan 'freedom for women', in its medieval relations the women members are annoyed and harassed and sexually abused by Massoud Rajavi and he has forced them to get divorced from their husbands and be separated from their children?
Do you know that this terrorist organization supports the other terrorist organizations in Syria and Daesh (ISIS) in Iraq, which it calls "Revolutionary Nomads", and that they are more dangerous than Daesh (ISIS)?
Dear friends,
Do you know that this organization through its interference in Iraq's political affairs and with a variety of excuses such as the protection of Camp Ashraf and its property, has caused the deaths of many of its members in Iraq and right now with a variety of excuses hampers the meeting of relatives and families with their loved ones in Camp Liberty in Iraq, and it hampers transferring those stranded members from the hell-hole of Iraq to safe countries by creating many false obstacles?
Dear friends,
Because of the treason committed by the leadership of the PMOI (Massoud and Maryam Rajavi) and the operatives of this notorious organization against the Iranian people, this cult not only has no popular support among the Iranian people, but instead the Iranian people hate their guts. For this reason they are not capable of attracting Iranian people who live outside Iran to this notorious and ridiculous ceremony in Villepinte. For that reason they want to drag you into this notorious ceremony to commemorate the anniversary of terrorism and violence in order to take full political advantage of your presence in this ceremony.
With all these facts mentioned above, we advise you not to participate in such a ceremony which is organized by a terrorist and cultic organization. Because despite its claim that it is the most democratic political group, each year it commemorates the anniversary of terrorism and violence and it continues to insist on the strategy of violence and terrorism. So, by participating in this ceremony you are helping to fortify the terrorist and anti-democratic front. We are sure you do not have any intention of fortifying the terrorist and anti-democratic nature of this group, so not only should you not you participate in this ridiculous ceremony, but you should instead boycott and condemn it.
All the best,
Iranian Pen Club, Germany
06.07.2016