Habilian Association (Families of terror victims in Iran) held an exhibition in Tabriz University about MKO long history of violence and crime under the title of "Iran; victim of terrorism".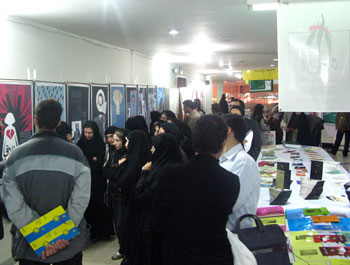 As reported by Habilian database correspondent, in this exhibition which was held to the efforts of families of terror victims and the cultural and extracurricular activities department of Tabriz University, new documents disclosing the MKO atrocities and crimes in Iran and abroad were brought to the eyes of the students and intellectuals.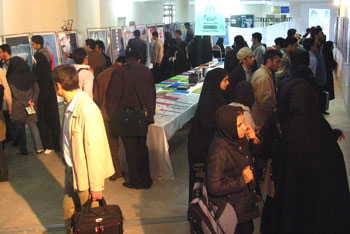 Meanwhile a comprehensive bank of documents about MKO crimes in Tabriz and the list of Tabriz university students martyred by this terrorist cult were shown to the public.
The exhibition was comprised of over 40 posters and more than 200 books and publications about the crimes MKO has so far committed, their manipulation and brainwashing system, their nuclear espionage, MKO treasonous role and their alliance with the Baath party during the imposed war, memories of the dissident members, their internal relations including sectarian ideological divorces, forced cleansing meetings…and their role in killing the Iraqi Kurds and suppressing the Shiites Intifada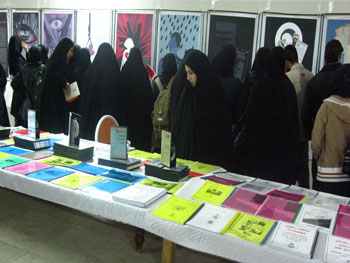 as well as a full list of names of more than 16000 terror victims in Iran, over 12000 of which martyred by MKO.
A purpose of setting up such an exhibition, among others, was to make familiar the younger generation with MKO crimes in Iran and abroad the damages the Iranian nation has so far received from the ominous phenomenon of terrorism.
In another part of the exhibition cultural products including brochures and software programs over MKO crimes were given out to the students.
A documentary was also shown to the students about MKO cooperation with the Iraqi Baath party.
"Iran; victim of terrorism" was very much welcomed by the university students and professors.
Below are comments and suggestions of the students in the exhibition guestbook.
– Some of the documents and information which was shown in the exhibition I have never seen nor heard about before.
– This exhibition fully disclosed the Stalinist nature of MKO.
– Monafeqin (MKO as known in Iran) are much worse than the nonbelievers.
– I really didn't know a person can betray his own country to this extent.
– Thank you very much for a small exhibition with a huge message.
– Very interesting it was and very shocking as well. I didn't know Masoud and Maryam Rajavi before. How dirty they are!
– This exhibition is just a part of the "backed by the west" crimes against our nation.
– It's a pity some people have been deceived by these terrorists.