Speech of Mr. Seyed Javad Hasheminejad in congress on "Muslim world, victim of terrorism",
The First International Congress on Resistance Culture was held under the name of "Islamic World, Victim of terrorism" during 1, 2 May at OIC Summit Hall in Tehran.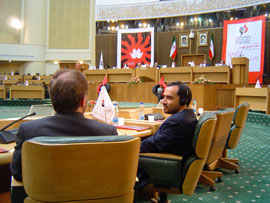 Habilian associations held an exhibition as a main part of congress on Munafeqin terrorist group's crimes and a lot of people also came and visit it eagerly.
For the first time in this exhibition, a list of 16000 victims was presented into divided and provincial parts with the name of place.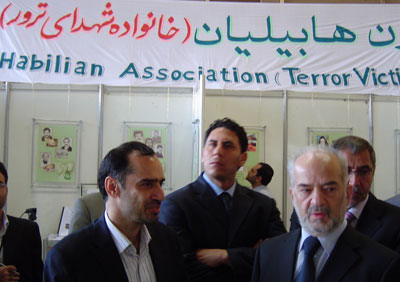 Also some pictorial documents and evidence of terrorism case in Iran were shown in this exhibition and they were noticed perfectly by visitors and especially young people.
Detailed report of this exhibition and visits and meetings of Habilian association's members with some figures will be published in next days.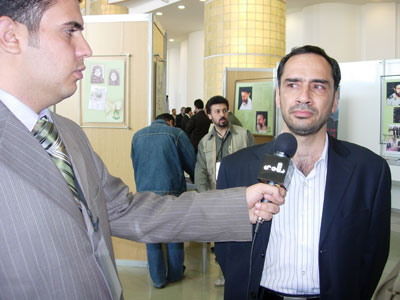 Text of Speech by Mr. Hasheminejad:
In the name of GOD
Ladies and Gentlemen:
16000 persons, such as infant and old man, man and woman, governmental and popular, in city and village, were victimized by terrorism in Iran!
All ruling body and leaders of three powers were sacrificed by terrorism for once.
President, prime minister, 5 ministers and tens of their deputies were killed.
Head of judiciary and tens of judges were killed in bombing and street assassinations.
Head of legislative power was attempted to his life and hurt badly but fortunately, didn't die.
Even the leader of this government has been hurt by a terrorist blast.
In Iran;
Tens of civilians and innocents people also were killed by some terrorist blasts and bombs, while they were going to their job.
In Iran;
Some clerics at age of 70 were assassinated by terrorists and even some holy place such as holy shrine of eighth Shiite Imam were bombed by them and tens of innocent people were killed in this event.
In our Iran;
Child in front of mother and mother in front of child was put on fire. Old father was sacrificed in front of his young daughter's eyes, burn the young boys at age of 17 by the iron, the shopkeeper and car dealer and even handicapped were killed just because of carrying their leader's picture. Violation of a wife in front of her husband and to daughter in front of her father and burning the houses, assassination, taking the hostages and armed demonstration.
This is question:
Aren't all of these enough that we know Iran as an Islamic country and victim of terrorism?
Ladies and Gentlemen:
Another most terrible disaster after terrorism in Iran is Human Rights Watch's discrimination that has closed its eyes on Iran's truth!
Terrorists, who committed a lot of crimes in Iran, now in Europe and American countries speak about lack of democracy and violation of human rights in Iran.
The only logic and justification, which is used by terrorists to stay in East Countries and continue their terrorist activities that known as "promotional terrorism", is that they want to topple Iran's government.
Politicians and authorities of west countries, who always give solution for any problem and introduce themselves as leaders of struggling against terrorism, are unaware of this point that the terrorists abuse them.
Unfortunately, we most say that our country were abused of its rights after including the terrorist group of Mujahedeen-e Khalq in Geneva forth convention by US.
Briefly, we can evaluate as Iran nation the west countries support of terrorists in any ways.
But on the other hand, what have west countries done?
They claim that they have placed Mujahedeen-e Khalq in terrorist list!
This claim is baseless and meaningless because of two clear points:
The west countries have not done any thing against Mujahedeen-e Khalq terrorist group in comparison with other terrorist group and organization, which threaten their interests. It'll be enough, if you research and follow US activities against Al Qaeda and it will be too clear for you, if you just compare Guantanamo, the prison of Al Qaeda's members with Camp Ashraf, the camp of Mujahedeen-e Khalq in Iraq.
We most ask these powers that what has happened in their activities after placing their name in terrorist list. They can continue their crimes easily and without any restriction. For example when the formal spokesman of this terrorist group speaks in one of American TV channel as an analyst, don't you doubt on this US claim that it struggle against terrorism? Or when they have presence freely in British, Norway And other countries parliaments to recruit new members, do you never suspect the truth of this list?
Ladies and Gentlemen:
We wasted your time just in order to reveal double treatments of West Country against terrorism.
I with number of children and relatives of terror martyrs formed an association to inform on this issue. We, as representatives of 16000 Iranian, who were martyred by terrorist group, expect professors and intellectuals to more consideration on terrible phenomena of terrorism, which caused that in any moment, many innocent people in all around the world were killed.
With best wishes for all