TEHRAN, Iran – The need to harness a pro-active, multi-disciplinary approach in terrorism-related investigations is the focus of the fourth working group meeting opening today in Tehran on Project Kalkan, Interpol's on-going anti-terrorism initiative in Central Asia.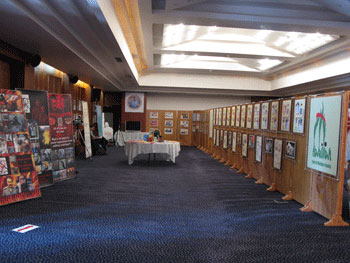 The two-day meeting draws together countries from the Central Asia region as well as from Africa, Asia and Europe and will review progress on the collaborative regional project amongst its 19 core countries. Specific issues under discussion include counter terrorism initiatives and operational cases, terrorism financing and the recruitment methods of terrorist groups.
Project Kalkan – meaning Shield in Central Asian countries – is one of several key regional components of Interpol's multi-region Fusion Task Force (FTF) which was created in 2002 to identify active terrorist groups, and to collect, share and analyze information and intelligence on their activities. From just five initial member countries at the launch of Project Kalkan in 2004, following terrorist attacks in Tashkent, a total of 60 INTERPOL member countries are now sharing terrorism-related information as part of the initiative.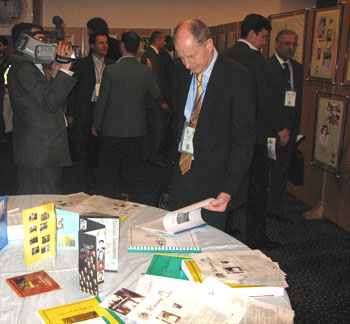 INTERPOL Secretary General Ronald K. Noble, on his first visit to Iran, told the meeting in his opening speech that these results bore out Project Kalkan as an excellent example of a coherent collaborative approach to security in the region, a far cry from 2004 when there had been little knowledge of the value of global tools to regional security, he said.
'Clearly, one of Interpol's responsibilities towards its 186 member countries is to maintain and develop strategic alliances with regional groupings and international organizations whose objectives are compatible with Interpol's stated aims,' Secretary General Noble said.
'INTERPOL will therefore continually seek to integrate its activities, network and resources with such regional initiatives in order to fight terrorism and global crime.'
In the three-years that followed the launch of the project, there were 176 confirmed international arrests of wanted terrorists from the region for whom INTERPOL notices or diffusions had been issued. Of interest is that 140 of these 176 arrests were made in Europe – a strong indicator that terrorism in the region has an important global reach – and this explains why Project Kalkan now brings together more than 60 countries from all regions of the world, as well as the Organization for Security and Co-operation in Europe, a key institutional partner of this project.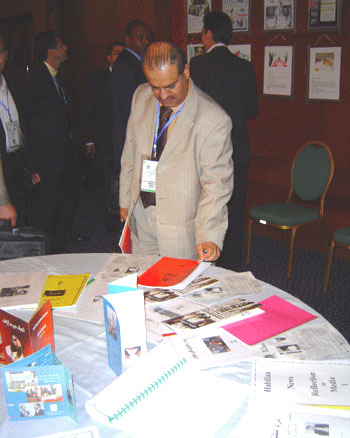 Meanwhile a terrorism exhibition was held in the sideline of the meeting revealing the negative impacts of terrorism and the damages it has imposed on the Islamic Republic of Iran. In this exhibition which was attended by Interpol authorities and members Habilian Association, families of 16000 terror victims, disclosed the terrorist entity of MKO to the attendants and provided them with valuable documents about this terrorist cult's atrocities and treasons.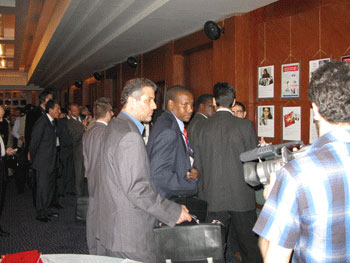 Habilian, Mashad, May 25, 2008
http://www.habilian.com/view-en.asp?ID=02074
————–
Noble: I' m so sorry about terror victims in Iran
Visiting terrorism exhibition in Tehran and along with expressing his appreciation for holding such an event, Interpol secretary general Ronald K. Noble conveyed his deep sorrow over terror victims in Iran.
According to Habilian Association (families of terror victims in Iran) public relations report in an exhibition held by Habilian in the sideline of Interpol conference in Tehran which was unprecedentedly welcomed by the representatives of over 30 countries from around the world, a part of MKO numerous atrocities and crimes was revealed to the world.
In this exposition the details of how ness of persecuting civilians, ordinary people and also 1981 bomb planting in then ruling party of Islamic Republic's main office as well as killing innocent women and children and kidnapping and torturing police officers to death and also the survivors of mortar shelling in residential compounds conducted by MKO were shown to the audience.
It was also exposed to the public the persecuting tools discovered from this terrorist group as well as the confessions of arrested members admitting that their goal had been to establish disunion among the people and also between the people and the new born government .
The report also adds: The secretary general of Habilian Association explained the different aspects of MKO atrocities in Iran to Interpol secretary general Ronald K. Noble in his visit to Habilian terrorism exhibition .Hashemi Nejad who is the son of Ayatollah hashemi Nejad, a cleric who has been assassinated by MKO terrorists, also disclosed to the Interpol top official the terrorist bloody history of this cult.
At the end of the visit Mr. Noble expressed his full sorrow about MKO crimes in Iran and signed the memorial book of 16000 terror victims in Iran.